ABSTRACT
This Spanish company with broad eCommerce experience has developed a software that uses artificial intelligence to compare prices of goods across many different websites.

The software is already available in Spain and is currently working with sneakers, but the company wishes to expand its services to other sectors and markets next year, installing the artificial intelligence

They are looking for a partner under a commercial agency agreement.
PROFILE IMAGES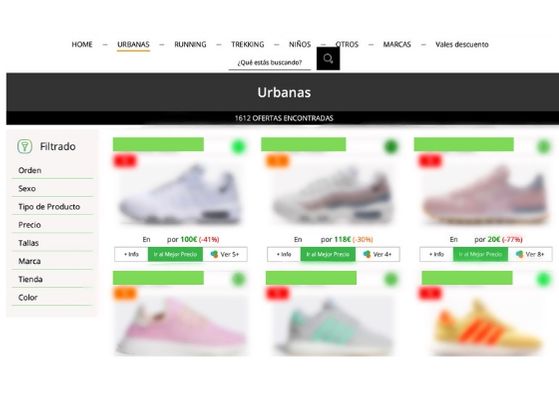 ---
FULL DESCRIPTION
The Spanish company has been working for more than 10 years in the eCommerce sector. They have developed a powerful and advanced software that offers to websites, mobile applications, blogs, digital magazines and even influencers, the possibility of including advanced price comparators in their websites.

After several tests during the last two years, they have chosen to start with the fashion market, the footwear sector in particular, with the intention of expanding to other sectors next year.

Their business model is sales commission by installing the software in the webpage of other business so they can sell products directly from their website, comparing prices of the goods in the market.

Now that they have accomplished important goals in the Spanish market, they are looking for a partner throughout Europe to promote their software and bring them support with the webpage by a commercial agency agreement.
---
Partner expertise sought:
- Type of partner sought: They are open to proposal of creative and innovative companies.
No technical specifications are required.
- Specific area of activity of the partner: They are looking for a partner under a commercial agency agreement that will work promoting their software to different business around Europe, so these business can add the software to their website.

Type of partner: business
Activity: Experience in eCommerce and contact with different business
Role: Promote the software

---
Advantages & innovations:
More than 10 years of experience in eCommerce sector and 2 years working with online markets.

Their software is own developed , so competitors can't use it or know how it work. Apart from the price comparator, they have created a net of blogs and webs to promote it.

Furthermore, they have agreements with main eCommerce platforms in Europe.
---
Development Stage:
Already on the market
---
IPR:
Secret Know-how,Exclusive Rights
Sign-in or create an account
To express an interest in this profile, you must first sign in or create a new account.
If you already have an account, sign in here
Not got an account yet, sign up here